While it's still nice out, you probably like to take a little trip, or spend sometime outside, with man's best friend.
And what do we usually do with our dogs? Throw tennis balls to them, of course.
But here is a great example of American laziness.
The GoDogGo is an automatic tennis ball launcher. Yup, that's right, Americans are now even too lazy to throw a freaking tennis ball to their dog. Let's look at how tiring this can be.
You pick up a ball, tilt back your arm, move your arm forward and release. Here's the most exhausting part, your dog runs after the ball and returns it to you. Wow. I just worked up a sweat thinking about it.
So here's how the GoDogGo works.
You can load up to fifteen balls and have it launch them every 7 to 14 seconds. It can be set up to go from 15 feet to 30 feet, so you may still have to go outside to use it. I know, what a drag. Even the manual setting isn't even really "manual" as you can use a remote control to dictate how many balls to launch.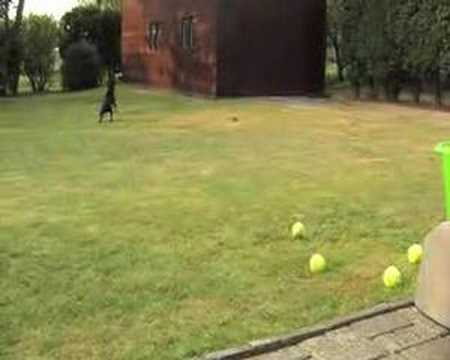 The GoDogGo can be plugged into an outlet using an AC adapter, if your around an outlet, or it can use 6 D batteries for a whooping five hours of use if you're out and about.
Now if you weren't already sold on this awesome product, the price will defiantly get you. The GoDogGo will only set you back $149.95.
Or, you could just go to PetSmart and buy a tennis ball for under a buck. Then you could actually throw the damn thing and spend some real quality time with your pooch.
To be fair, it looks like it actually works, and the dog in the above video seems to be having a good time. But, have we really become this lethargic?
Don Bunuel loved technology so much as a kid, he built a robot out of an RC car and still has it. While spending his time building robots and other contraptions, Don earned a BA in Computer Science from Boston University and a PhD in Computer Systems from UCLA. He currently works for a Silicon Valley startup.
Latest posts by Donald Bunuel (see all)