The whole Kevin Garnett debacle got me thinking about the greatest trash talkers in sports. If you don't know what I'm talking about, the incident occurred when the Celtics were playing the Pistons on November 3. After the game, Charlie Villanueva tweeted that KG told him that he looked like a "cancer patient". Garnett claims that he actually said "You are cancerous to your team and our league,'" to Villanueva. Regardless of what was said, and how people feel it, what else do you expect from a guy that was named the league's top trash talker earlier in the year? So, without further ado, here's the 19 greatest trash talkers in the history of sports.
19. Juan Pablo Montoya
This Colombian born race car driver, formerly in Formula 1 and now in NASCAR, reportedly has a huge ego. For example, while sitting next to legend Michael Schumacher, Montoya remarked that Schumacher was "either blind or stupid." The nerve of some people.
18. Dizzy Dean
Dean was a pitcher primarily for the Cardinals and Cubs during the 1930s and early 1940s, an era where you wouldn't expect much trash talking. However, this dude was a trendsetter. After a teammate pitched a no-hitter, Dean said in the locker-room "if I'd a-known you was gonna throw a no-hitter, I'd a-thrown one too!" He also made a bet that he could strike out the great Joe DiMaggio four times in a single game. He did. One of his most memorable quotes was "It ain't braggin' if ya can back it up."
17. Jeremy Roenick
Roenick played 18 seasons in the NHL, playing for the Blackhawks, Coyotes, Flyers, Kings and Sharks. He became the third American-born player to score 500 goals. However, he was known for his mouth as much as his talent. Did you ever have a chance to listen to him when he was miked up? It was classic. But, his most well known bad mouthing came during the 1996 Western Conference semi-finals between the Avalanche and Blackhawks. After Roenick was tripped on a breakaway, and no penalty shot was called, Colorado's legendary goalie, Patrick Roy said, "I would have saved it anyway." Roenick's response was, "I'd like to know where Patrick was in Game 3 (where Roenick had scored on Roy); probably up trying to get his jock out of the rafters."
16. Joey Porter
Porter has never been afraid to avoid running his mouth during his time with the Steelers, Dolphins and Cardinals. During an AFC Divisional game with the Colts in 2006, JP said that the Colts "want it to be a thinking game instead of a football game." After the game, Porter remarked on the Refs overturning a Troy Polamalu pick. "I know they wanted Indy to win this game; the whole world loves Peyton Manning. But come on, man, don't take the game away from us like that." Finally, before a 2009 match-up with the Pats he said "Let's be honest. They don't like me, and that's fair. I don't like them, and that's fair. It's not like there's a divorce happening. We never really were married anyway."
15. 1985 Chicago Bears
The roster included one heck of big mouth, QB Jim McMahon, so it's no shocker that trash talking would rub off onto the rest of the team. And, they deserved to run their mouths. Besides winning the Super Bowl, they're frequently considered one of, if not the best, teams in NFL history. After suffering their only loss of the season, oddly enough to the Dolphins, most of the team recorded "The Super Shuffle". That's right, they recorded the song before they even won a single playoff game. Good thing they were right.
14. Reggie Miller
The Pacers icon could hold his own on the court, obviously, but also when it came to trash talking. His most famous moments came when the Pacers and New York Knicks battled in the early 90′s. He ran his mouth so much that he was head-butted by the Knicks John Starks, and of course those war of words with Knicks super-fan Spike Lee. Matter of fact, these moments were so classic that a documentary, entitled "Winning Time: Reggie Millers vs. the New York Knicks" was released earlier this year.
13. Terrell Owens
TO had to be on this list. My favorite moment came last year, while on the Bills, where TO was asked if he had anything up his sleeve for the Pats-Bill game. "Nah, nothing up my sleeve," he said. "I might bring my spy camera out, though."
12. Chad Ochocinco
Like TO, Ochocinco had to be included on this list, as well. Recently, he's been involved with several friendly "tweet-offs", besides the classic on the field trash talking. Last year, before a match-up with the Jets, Ochocinco said "Darrelle Revis couldn't cover me in a brown paper bag on the corner of a Manhattan street in a phone booth."
11. John Randle
Randle recently was inducted into the NFL Hall of Fame, which he deserved after an amazing career with the Vikings. Besides being a nasty defensive tackle, he could get into the minds of opposing players like no other, it's been said that he would find out personal info on players touse against the during games. This is the same guy who once filmed a commercial where he dressed a chicken in a Brett Favre jersey, chased it around and then cutting to him eating it.
10. Sean Avery
Avery is perhaps the most disliked player in the NHL. During his time with the Red Wings, Kings, Stars and Rangers his consistently run his mouth. He's blasted the league and players association several times. He said the NHLPA made players waste an entire season during the 2004-2005 lockout and was fined for criticizing the league's diving rule in 2006. He once said "it was typical of most French guys in our league with a visor on, running around and playing tough and not back anything up," after a hit on teammate Jeremy Roenick. He's also called the Flames' Jarome Iginla "boring." And, we can't forget his infamous statement about follow hockey players getting his "sloppy seconds," in regards to another player dating his ex, Elisha Cuthbert
9. Deion Sanders
Prime Time was known to bark at opposing wide receivers while covering them. This typically resulted in an interception and some high stepping into the end-zone.
8. Charles Barkley
Sir Charles was one of my favorite players as a kid. Besides being a force to reckon with while on the court, he ran his mouth a lot as well. Of course, he could almost always back it up. One of his most memorable quotes came during the 1998 season, while he was squaring off against Michael Jordan, when Barkley exclaimed "Everytime he raise his voice you call foul. You don't want that." Barkley still does plenty of talking whether on the golf course, or as as commentator on TNT.
7. Gary Payton
Payton enjoyed a lengthy 17 year in the NBA. Besides being considered as the most complete guard in the league's history, he was also known for his big mouth. In fact, he ran it so much that he has the third-most technical fouls of all time.
6. Floyd Mayweather Jr.
Mayweather loves to talk the talk. Most notably this rant about Ricky Hatton: "When I retire, I'll get Ricky Hatton to wash my clothes and cut my lawn and buckle my shoes. Ricky Hatton ain't nothing but a fat man. I'm going to punch him in his beer belly. He ain't good enough to be my sparring partner."
5. Mike Tyson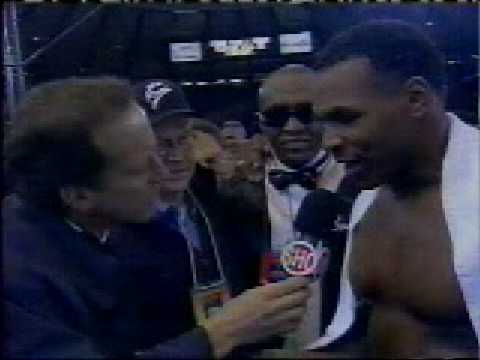 Let's just let Mike take this one. On Razor Ruddock: "Your family better write up that will. I'm gonna make you kiss me with those big lips. I'm gonna make you my girlfriend." On Lennox Lewis: "Lennox Lewis, I'm coming for you man. My style is impetuous. My defence is impregnable, and I'm just ferocious. I want your heart. I want to eat his children!"
4. Shannon Sharpe
Shannon Sharpe is probably one of the greatest tight ends to ever play in the NFL. He's also probably one of the greatest trash talkers as well. After stomping the Pats in 1996, Sharpe stated: "Mr. President, call in the "United States National Guard"! We need as many men as you can spare! Because we are killing the Patriots! We'll call the dogs off! Send the National Guard please!" Before battling the Falcons in Super Bowl XXXIII he said this of CB Ray Buchanan, who predicted an Atalanta victory, "Had anybody heard of Ray Buchanan before he got to Atlanta?" Finally, there's this classic quote about coach Tom Coughlin: "I would rather die in an abandoned building alone, and my family not know what happened, than play for Coughlin."
3. Michael Jordan
When you're one of the greatest athletes ever, you're earned the right to trash talk. MJ certainly earned that right. One of his greatest moments came in 1995, when the expansion team Vancouver Grizzlies faced off against Jordan and the Bulls. Grizzlies Darrick Martin ran past the Bulls bench exclaiming "I told you we were going to beat you tonight," since Vancouver was ahead. Enter MJ, who essentially won the game for Chicago by himself, but not before giving it back to Martin by saying, "Little man, I told you not to trash-talk me."
2. Larry Bird
In an era when trash talking was at it's peak in the NBA, Larry Bird was king. In 1984, while against Julius Erving and the 76ers, Bird kept reminding Dr. J, of their tallies, which Bird was leading. Eventually, this resulted in the benches clearing. During the shootout contest of the 1986 All-Star Weekend, Bird walked into the locker-room, looked around, and finally said "I'm just looking around to see who's gonna finish second." He did finish first. On a Christmas Day battle with the Pacers, Bird told Chuck Person he had a present for him. While Person was on the bench, Bird stood right in front of him and landed a three pointer, at which point he told Chuck "Merry F*ing Christmas." Then of course, there's the time he informed Seattle's Xavier McDaniel where he was going to score from. Bird got the ball, and with 2 seconds left in the game, made the shot where he said he would. After-wards, Bird remarked "Damn! I didn't mean to leave any time left on the clock."
1. Muhammad Ali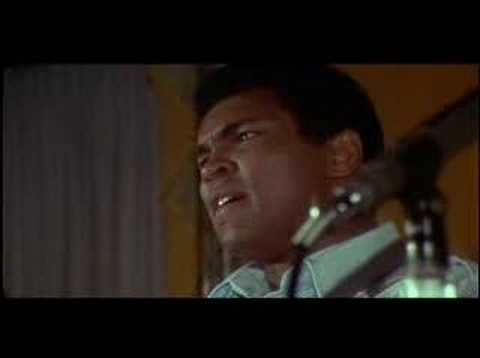 The greatest.
Albert Costill
Just a typical guy that wants an ice-cold PBR with some pizza and wings to go with football on a Sunday. Since venturing into the blogosphere many years ago to discuss his favorite tunes, Al has now moved onto publications by Alpha Brand Media such as AMOG and SoJones to blab about anything and everything else that matters.
Latest posts by Albert Costill (see all)